August Macke Project in Crewe (England)
From 16 to 20 June 2014 the students of Leighton Academy got to know one of the most famous German expressionist painter August Macke.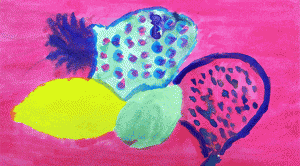 Therefore, three students from the University of Leipzig and their supervising Professor Andreas Wendt were invited by the Goethe Institute London. The project aimed to familiarize the students with the painters' style and subjects as well as to inspire them to produce their own creative artwork. One more key feature of this German-English cooperation was to improve the students' language proficiencies by combining art and language learning. Their experiences were captured on a website on a daily basis and as a further promotion, a poster and a range of postcards were printed.